This site is very professional. Come revel in its professionality.
Welcome to EvanKessler.com. This site has been around in many different incarnations since the dawn of time. In the early days of civilization it had instructions on how to build a wheel, and once the wheel was reinvented it offered revised instructions.

Since 2004, however, people from all over the world have come to this site for inspiration, laughter, and to read inane stories of the day-to-day existence of one Evan J. Kessler.

This latest incarnation is a new step in the evolution (not to be confused with ovulation) of websites in-general and Evan Kessler as a human man. It serves as both a professional portfolio of sorts, and a hub for all Evan Kessler admirers to reach out and touch Evan Kessler by showering him with praise and offering him lucrative job opportunities.
---
Powered by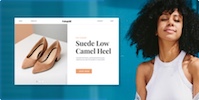 Create your own unique website with customizable templates.